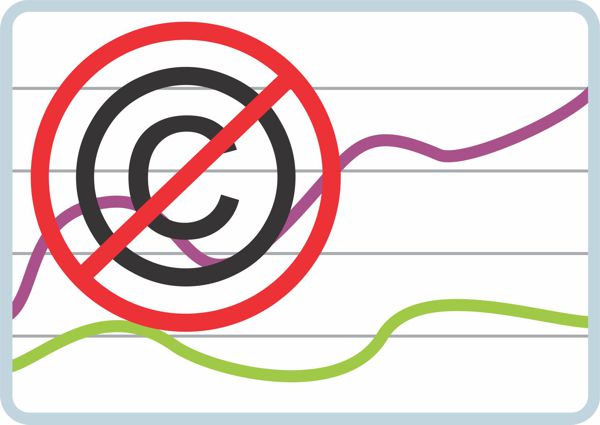 I was cleaning my desk today, and came across a folder containing correspondence about a legal threat that I received a few years ago from someone accusing me of copyright infringement.
The accusation was that I had used his published data in one of the figures in one of my books without his permission, and had thus violated his copyright.
For my figure, I had drawn a stylized graph which matched the data presented in his graph, but I didn't copy his figure. He acknowledged the fact that I had "changed the colors and style," but insisted that the fact that he had placed a copyright notice meant that the data were his, and that anyone publishing a graph that matched these data would be infringing on his copyright.
Although presenting and contrasting previously published data are the basis for academic discussion, which is why it didn't even cross my mind that I would be doing something unethical or illegal by presenting my version of the graph, I wanted to make sure. Indeed, I was right – in the US, as in most parts of the world, ideas, procedures, and data that can be independently retrieved or replicated (i.e. which are not specific to the subjective viewpoint of their creators) are not subject to copyright.
I also checked with the European Copyright Code, which states that the following are not to be regarded as "expressions within the field of literature, art, or science" that can be protected by copyright:
Facts, discoveries, news, and data;
Ideas and theories;
Procedures, methods of operation, and mathematical concepts.
Furthermore, hearings regarding the US Database and Collections of Information Misappropriation Act of 2003 show that data are not protected under copyright. It is clearly stated that while certain databases may qualify for copyright protection if they exhibit some modicum of creativity in the selection, arrangement, or coordination of the data, in no case are the data themselves copyrightable.
Bobby Glushko, now the Head of the University of Toronto Scholarly Communications and Copyright Office wrote a very nice article about this very question while the Copyright Program Manager at the University of Michigan. The article is available online at:
https://deepblue.lib.umich.edu/bitstream/handle/2027.42/83329/copyrightability_of_tables_charts_and_graphs.pdf
Based on the explanations in the article, even if I had taken each single point of data in his chart, and just because it took him effort to acquire these data, it doesn't mean that the data are subject to copyright protection. This is because:
"Facts, data, and the representations of those facts and data are excellent examples of things that require much "sweat of the brow" to create, but yet still do not receive copyright protection."
Please note that I'm not a lawyer, so don't take any of the above as legal advise. However, I hope this will be a good starting point for anyone who is threatened by a bully with a false claim of misappropriation of intellectual property based on use of published data.